Key Trends and Thoughts from BOSE 2021
20211119
Last week, mkodo attended and exhibited at one of the first in-person events in our industry to be held in London: SBC's Betting on Sports Europe (BOSE). This was a great opportunity to engage with those in the sports betting world and share our knowledge of what makes a best in breed app and digital product, along with learning about the next trends and key themes for sportsbook products. The mkodo team enjoyed attending and have shared some of their thoughts and key takeaways from the event:
Stuart, MD & CTO – "At in-person events like BOSE, you connect with people and discuss opportunities that you would not normally experience at these events. There have been a lot of lightbulb moments!
From a technology perspective, we've had a lot of good conversations and as I said in the CTO panel, there is no user manual to building technology, it evolves. CTOs and their teams have to work out the problems as they go along.
Currently, the whole industry is going through quite a significant delta change, and we are on a precipice of seeing something amazing happen."
Anastasiya, Senior Account Manager – "It was great to have face-to-face interactions and discussions at the event, clearly this has been missed by everyone!
One clear trend from the speaker sessions was around the battle to differentiate a product against the competition with the help of constantly evolving technology and understanding the market landscape, for example a tailored offering in Germany will not work in the US. Another topic I enjoyed was around innovation in this industry, for example through alternative digital currencies, such as blockchain, cryptocurrency, fan tokens etc.
With an array of exhibitors at this year's event, KYC, fintech and analytic tools & platform providers prevailed, showing a shift to focus more on understanding customer behaviour. The industry is looking deeper into personalisation and safer gambling experiences, and this will be well-received by the player"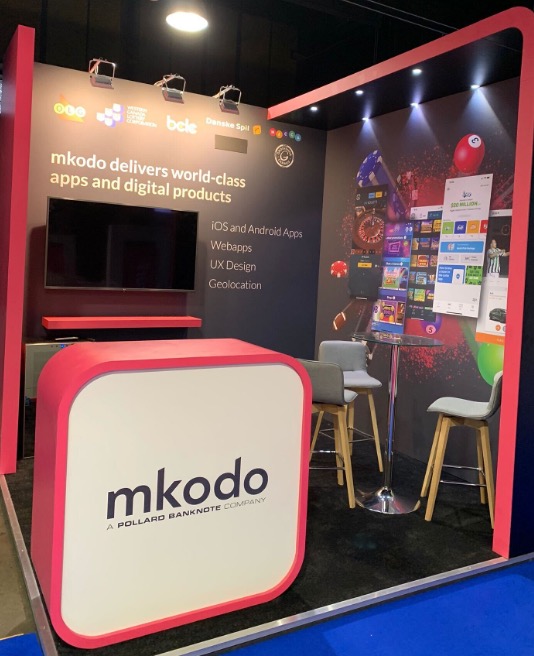 mkodo exhibited at this year's BOSE 2021
Will, Associate Director - "This year's BOSE showed that mkodo are abreast of the latest innovation and key updates within the industry. There are still plenty of opportunities from operators looking for apps, with many operators valuing speed to market and small budgets as important decision-making factors.
From conversations on the ground and in the panel sessions, the US market is still without a doubt the largest talking point in the industry"
Jed Taylor, Account Relationship Manager - "Betting on Sports Europe is housed at the wonderfully appropriate Stamford Bridge stadium, home to Chelsea Football Club. From the speaker sessions, I learnt a lot about the incredible lengths this industry goes to, to ensure that players are safe, well informed, engaged, and ultimately happy with their chosen method of placing bets.
It's perfectly reasonable to expect a queue when walking into a betting shop, however when it comes to online gaming a player expects results instantly. Speed is key and UX is king, proving the sports betting industry has a tough gig when it comes to keeping ahead of the 'game'.