Best of The Best (BOTB)
20210618
BOTB Quote –"Having previously developed an in-house cross platform wrapped app, we came to realise the benefits of developing separate native iOS and android apps, to better serve our growing and increasingly mobile focussed customer base. We shortlisted a number of app developers, both those residing wholly within the UK, and some with UK offices. It soon became clear that the working relationship between the native app developers, project managers and our own in-house team of developers was so important, that an app developer properly based in the UK was going pay dividends and cement the close working relationship required to see us through the project. We selected mkodo, not only due to their significant and relevant portfolio of expertise, but as importantly because they just seemed to resonate with BOTB, our senior management, designers, developers, but as importantly both with our customers and our fairly unique product.
Design and UX development proved to be a key stage in the process, and mkodo were able to bring a fresh and innovative approach, whilst flexibly combing the app-centric ideas and aspirations of their design team with the 20 years of learnings and experience that BOTB has in operating spot the ball competitions. The app development process has certainly been 'dynamic', but this allowed for a degree of test and learn, which has enabled us to successfully incorporate elements of design and UX into our mobile website, providing both proof of concept and live testing.
We have enjoyed every stage of the process, collaborating with Mkodo's senior management, project managers, designers, developers and testers, and they have worked seamlessly with our own team to deliver the goods, with very little scope change and within budget. We look forward to working with mkodo to improve and develop the apps over the coming months and years as our business evolves and grows." Rupert Garton Commercial Director
BOTB
Best of the Best Plc ("BOTB") started in 1999 as a business that displayed luxury cars as competition prizes in retail space, within airport terminals and shopping centres. In the past 20 years, over 550 winners have driven away in £35m worth of the world's most desirable cars. In recent times, BOTB has evolved to become a pure online business, albeit with limited mobile presence, having discontinued their previous two wrapped apps. Now, with a growing business and the general trend to mobile, BOTB decided to enhance their digital portfolio to include native apps.
The Challenge
mkodo's challenge, was to design and develop two fully transactional native iOS and Android apps, to complement the exceptional user experience that customers currently enjoy from the BOTB website. As well as being an upgrade on previous mobile offerings, the apps needed to have a radical new UX/ UI and engage users with fun, charismatic new native features. Whilst, for practical purposes, some functionality, such as the past winners' pages, needed to remain in web view, BOTB and mkodo agreed that most core features should be native in order to provide the best user experience.
The Approach
Having understood BOTB's key business objectives and requirements, mkodo began a Discovery & Design phase to analyse the scope of the project and detail the spec for the new apps. Operating throughout in an agile fashion, our team collaborated with BOTB to create a fresh UX/UI concept, whilst our Analysts assessed the various APIs in order to ensure seamless data integration. The project progressed in two-week development cycles, culminating in 'end of sprint' client demonstrations, which provided insightful feedback for our team to absorb and act on.
Native Innovation
The main challenge was to recreate the BOTB 'Spot the Ball' game in native OS, an offering that is thought to be a 'world first'. Key to our success, was mkodo's ingenuity in resolving several complex tasks, including altering the aspect ratios to accommodate multiple mobile devices and ensuring that each coordinate matched those on the BOTB website. To enhance the players' experience, mkodo also created a bespoke range of tools, such as a ruler for players to analyse their position and a magnifying lens allowing them to 'zoom in' to identify minute pixels on the screen.
Other native innovations included Social login and registration, an onboarding page and a dynamic 'In the Headlights' carousel to showcase selected cars. The newly designed prize pages allow customers to filter and select hundreds of cars, bikes, watches and other prizes to be won. The addition of Push notifications enables alerts and 'calls to action' for prizes and competitions, whilst our deep linking technology brings users from external media channels to targeted areas of the apps.
Results
The mkodo developed iOS and Android apps are now both live and the result is a significant upgrade and overhaul of the UI /UX of the previous BOTB apps. Every stage of the prize selection process and gameplay has been improved by innovative and ground-breaking native features. The highlight being the 'world first' Spot the Ball game, which truly intensifies and enhances the fun element of the competition.
BOTB and mkodo will continue to collaborate on an exciting upgrade roadmap for the apps, focussing on inventive, value adding enhancements that ensure the new BOTB apps remain fresh and engaging for players.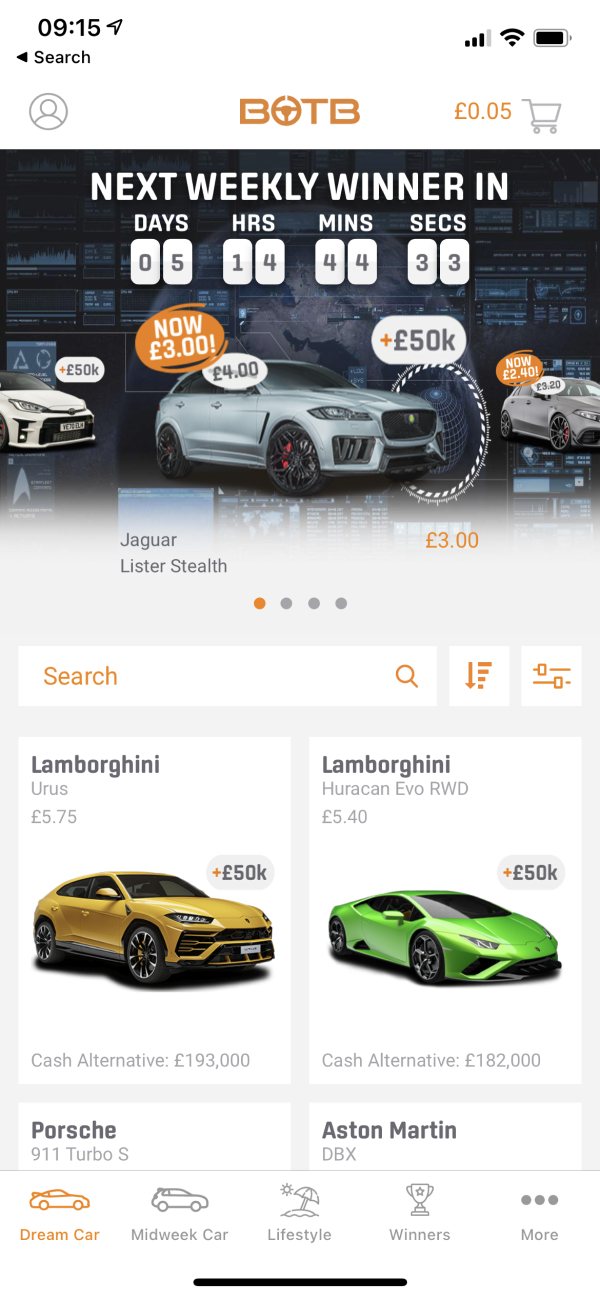 In The Headlights - Cars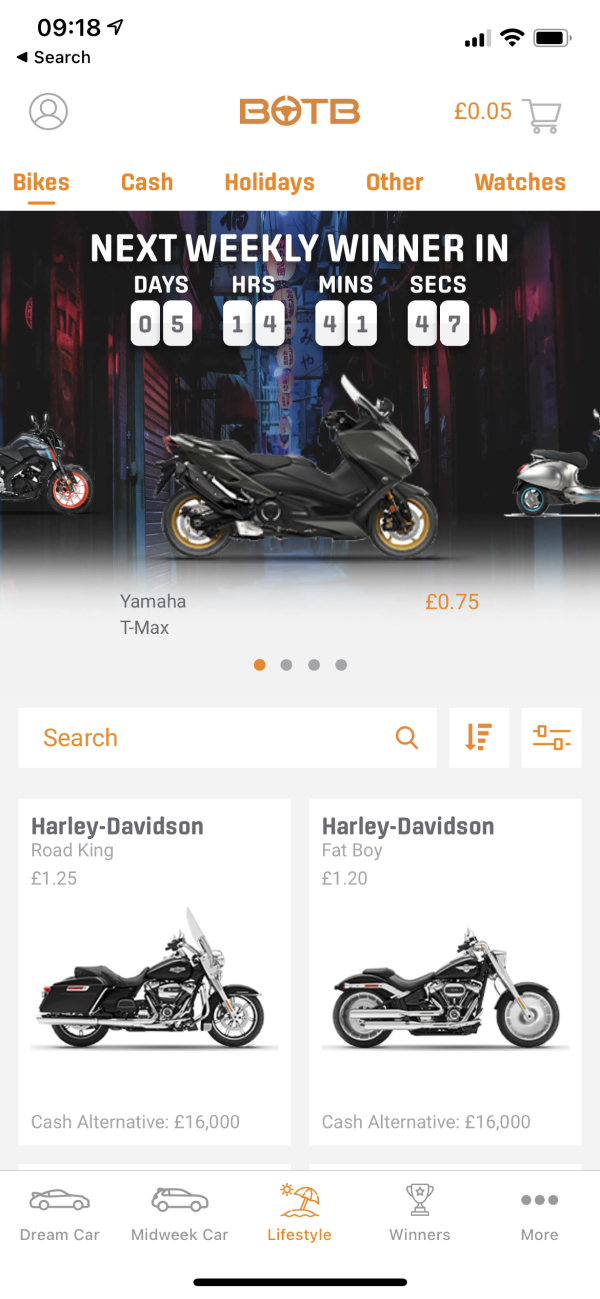 In The Headlights - Bikes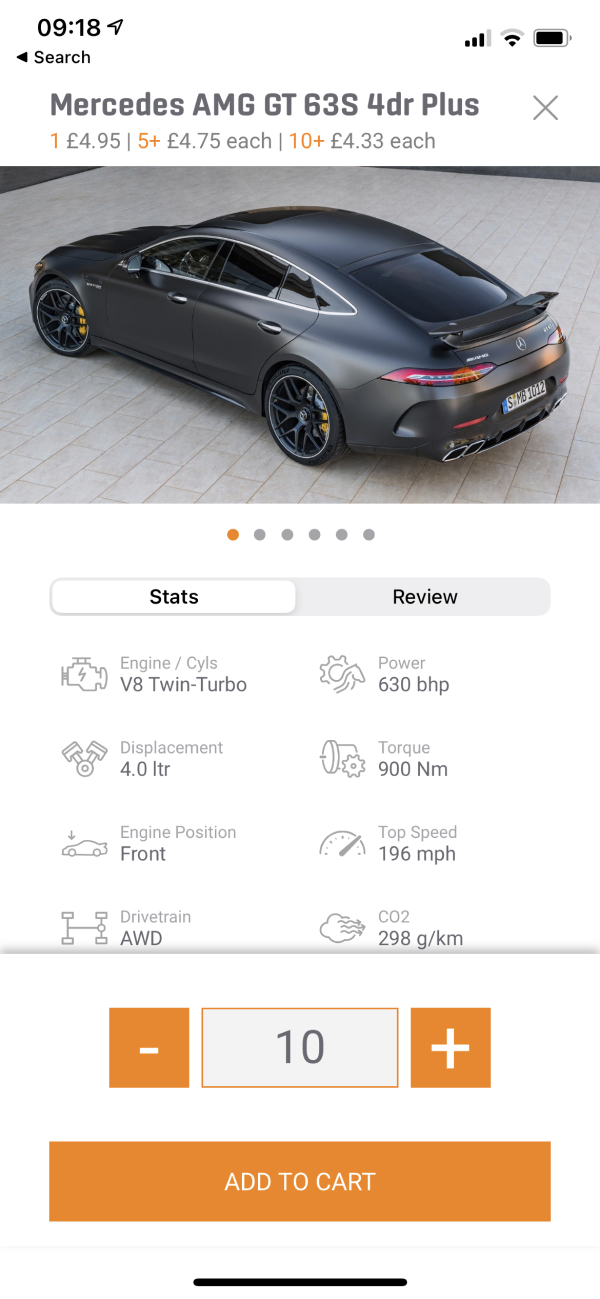 Ticket Selector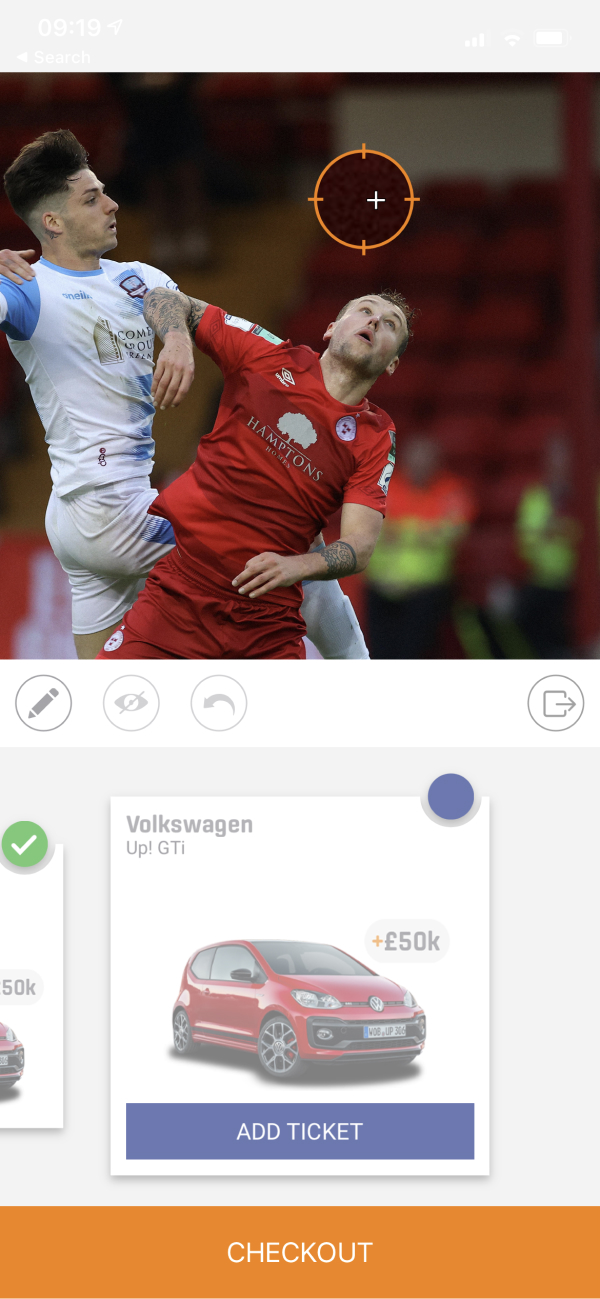 Spot The Ball