Focus on Widgets
Overview
Apple has overhauled its home screen this year. The introduction of app libraries, folders and better search facilities aims to improve how people can better manage their ever increasing number of apps.
The most interesting and exciting addition to the home screen is the introduction of Widgets. App Widgets will run on iPhone, iPad and Mac and will roll out with iOS 14 and macOS11. Widgets will provide yet another way to communicate with users, all without having the user needing to launch the app.
Widgets can be created to support 3 sizes (small, medium and large). The data made available should change depending on the widget size selected. It is even possible to have multiple widgets from a single application with each one being customised slightly differently. An example of this would be having several weather apps. Each widget could display the weather for a different location, e.g. Toronto, Stockholm and so on.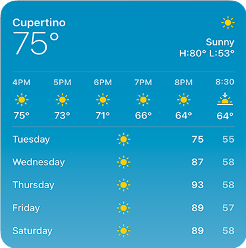 Large Widget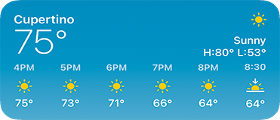 Medium Widget

Small Widget
Customisability
Widgets can be designed to be configurable to meet the needs of people. For Lottery this could be a certain game or jackpot value is about to be played, sport-books could utilise this to allow people to specify the sports they're interested in. The widget could then display upcoming key events for these selected sports.
When tapping the widget we can deep link the user into the correct journey. Whether that is the purchase flow, sports page or whatever else that is relevant to the widget.
Widgets support a logged in and logged out state. Authentication can add a lot of value to the widget such as, "Sign in to view your upcoming draws" or "Sign in to view your past results".
Updating Content
Widgets do not support continuous real-time updates. You should select an update frequency which suits the data you're displaying. Whether that is hourly or daily.
Smart Stack Widget
A Smart Stack Widget is now available with iOS14 which enables the user to select several different widgets that will be exposed on their home screen at relevant times (as determined by Siri intelligence). This could be particularly useful if there is an upcoming lottery draw that a person would normally play. The Smart Stack would display the lottery widget and allow the user to jump straight into ticket purchase before the draw closes.
---
If you are interested in more details about this topic, please do contact us at hello@mkodo.com.