What's New in Android 12
20210901
The Open Handset Alliance's (led by Google) Android is the world's most dominant mobile operating system (OS) accounting for approximately 73% of the global market. So, when it releases its annual OS update, people pay attention. This year will see Android 12 make its debut, but what can we expect from it and what impact will it have on the igaming industry? mkodo's Senior Software Engineer, Allison McGlen offers insight into the 12th major iteration of the OS which is nearly upon us.
Approximate location is something that chief rival iOS debuted last year and now comes to Android as part of Google's drive to place privacy firmly at the heart of its growth in 2021. The function gives users the power to decide whether an app is allowed to access their precise location or restrict to an approximate location instead.
When operators request location permissions, which they do for all their gambling apps as per regulations and compliance, the requested permission is for fine location to pinpoint players with a high degree of accuracy. For privacy reasons, Android want to give users the option to choose coarse location, which only makes available a general location.
Fine or precise location uses GPS data to determine where a user is located and in ideal conditions can be accurate almost down to one metre. Coarse or approximate location calculates position based on Wi-Fi and cellular data and is less accurate, placing a user within an area of approximately one square mile.
The normal Android location permissions dialog has a different appearance, offering users a new visual cue to help them decide which location granularity to use. An example of which can be seen below.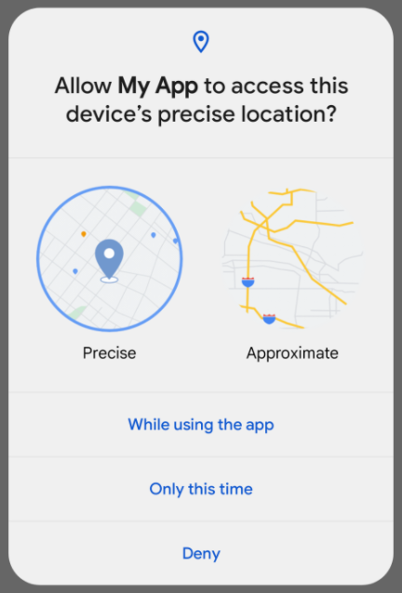 Updated Android location permissions
The new flexibility is great for users as it gives them more control and privacy but for developers and operators, it presents a challenge. Positioning with miles could potentially place a user in a different country, a possible issue in smaller areas such as Europe, or an even bigger issue in the US where online gaming could happen across or outside state borders, enabling users to circumnavigate gambling legislation designed to restrict access to online gambling markets. This is something that mkodo, as developers in this industry, need to factor into our app development, and we have already built into some of our products a facility to work around this.
It is important to note that these changes will not come into play until an app is coded to target Android 12. This means that developers will have some time to adapt and make these changes once the new Android version is released.
Android 12 also brings an update to their longstanding widgets APIs, again a response to Apple's introduction of the feature in iOS 14 and their arrival on iOS 15 for iPad. Revamping the design of widgets to align with Google's 'Material You' design principles, is a significant UI overhaul and gives developers much more to work with.
Widgets have been in use for a long time as extensions to apps – they offer an easy way to see certain data without having to open apps and many use widgets effectively to increase their user engagement – something which suppliers and operators of igaming products are very keen to leverage.
They have been popular in lottery apps for some time, presenting the latest winning numbers for a draw but can also be used in Live Casino, for example, showing at the mere tap of the home screen the next start time for a player's favourite game, or when a friend comes online, without leaving the device home screen.
Before widgets came along, communicating this information was only possible through notifications. Now with the customisation options available, users can choose bespoke data and information displayed to include such things as favourite games and progressive jackpot status. It brings greater functionality and added-value benefits for operators.
Making the most of this newfound greater flexibility is key to getting the most out of your app and allowing increasingly tech-savvy players the conveniences they demand. In the current congested digital entertainment marketplace, where there's a bevy of tech giants tenaciously competing for the leisure spend, any new bowstrings are few and far between. Understanding your OS and what it can do for your company's products is more vital than ever.