Underused Features from Android
20211028
Underused Features from Android
Review of underused features from Android that every lottery and iGaming operator should implement in their app.
Following in the path of its main competitor, every year Google releases a major OS update for Android. Each Android update is filled with exciting new features to help augment the user experience on a range of phones that use this OS platform.
With Android 12 now live, it is important to take note of past Android updates and features which, in mkodo's opinion, should be implemented as standard. Many of these features can help improve customer user journeys, help operators further connect with players and augment the entertainment factor.
Following the announcement that operators from 15 more countries can advertise their real-money gaming (RMG) apps on Google's Play Store, now more than ever we urge operators in the industry to implement these Android features with haste.
Previous Android Updates
Instant Apps: Introduced way back in Android 5.0, Instant Apps allow users to experience an app without waiting for it to fully download, giving quick access to a key functionality or feature of an app with the hope of encouraging a user to download it in full. Instant Apps can be advertised via the Play Store but also through different links, for example, via social media or messaging services. This is a great opportunity for Lotteries and operators to engage with their players via different social platforms and offer them the ability to experience their app before fully downloading. Read more about Instant Apps here.
Widgets: A staple Android feature, Widgets were introduced back in 2008 through Android 1.5 and can add extra functionality and customisability to a user's home screen. By concentrating key information onto the home screen, Widgets can entice users to open the app in full to find out more. Not only do Widgets show information, but they can be deep linked to take a user on to specific location within the app. For example, showing the current jackpot of a lottery in a widget could prompt a user to click it, taking them to the purchase section of the app where they can proceed to buy a lottery ticket with ease. Find out the other types of Widgets on Android here.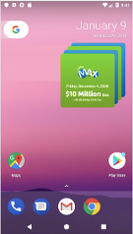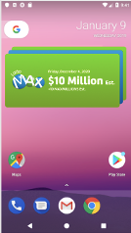 Biometric Login: To protect private and sensitive information, many apps require the user to log in. Time spent logging in to an app can be significantly reduced if operators offer biometric login. This feature expedites the login user journey, allowing users to access the core of an app quicker. Since this is an incredibly safe and secure way to sign into an account, if regulation allows it, operators should adopt the use of biometric login into all of their betting and gaming apps. Moreover, Android has gone one step further so that their password manager can now use biometric authentication to autofill passwords.
Google Pay: Just like with Apple Pay, offering Google Pay as a payment option can elevate UX/UI experience on all levels and speed up the user-journey of purchasing on an app.
Accessibility Features: Android's focus on "people" is well-received in the industry, especially from an accessibility perspective. Continuing to revolutionise how information is conveyed to the user in an accessible manner, Android has been introducing accessibility features for years that can help elevate a player experience. Examples include introducing Dark Mode and new features for processing text more easily. Review other key accessibility and UX/UI features here.